Blast Shield Luke Skywalker
Blast Shield Luke Skywalker is made from a floppy hat Luke head, chest, skirt, & pelvis; POTJ Obi-Wan upper arms; Jedi Duel Obi-Wan fore arms & hands; commtech Luke legs. I boiled and popped all figures, put the pieces together and glued together. All the pieces fit together with out having to do anything special. No parts were painted. I realize the pieces are different shades of white, but it adds to the dingy used look of the figure. Now I have a fully articulated Luke that can hold his saber with both hands. I often wonder why Hasbro has never made a Luke with articulation like this.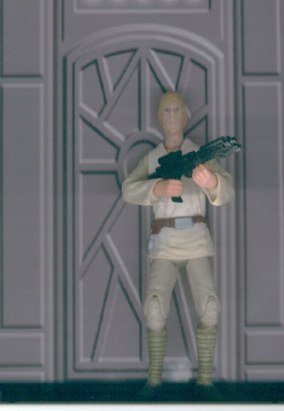 If Hasbro would have made a Luke like this, they could have offerd it with a lot of acessories to get ULTIMATE LUKE


They could have thrown in the long saber in some of the packs to satisfy all the variation collectors!!